Ultra High Resolution and Digital Filtering Enhances Dimming for Smooth Dim to Dark
GRE Alpha, an emerging leader in the design and manufacture of solid-state lighting power supplies, is excited to announce the release of their newest smart dimming module.
The SLD-DIM1X module is an enhanced version of GRE's innovative SLD-DIM1B dimmer, featuring ultra-high resolution dimming. With 10,000 dimming steps (versus 1024 in the SLD-DIM1B) and GRE Alpha's advanced digital filtering technology, the SLD-DIM1X dimming module provides best-in-class, flicker-free (PWM) pulse width modulated dimming for 0-10V dimming applications. These enhancements make the dimming process smoother, especially at the low end- dim to dark. For cost sensitive projects with moderate dimming performance requirements, GRE Alpha's original model SLD-DIM1B remains the wise option.
These easy-to-install dimming modules work with commercial 0-10V dimmer controls (1V=0% brightness, 10V=100% brightness), and connect between any Class 2, AC-DC LED driver and LED Fixture/Luminaire to enable exceptional, flicker-free dimming. The SLD-DIM1X can be installed into any of GRE Alpha's SLD/XLD series LED driver's DC wiring cavity, eliminating the need for external junction boxes, resulting in a quick, low cost installation.
GRE Alpha's executive director, Richard Fong, had this to say: 'I am proud to announce that GRE Alpha's talented design team is continuing work on a series of innovative, high-quality LED drivers and modules that will take our popular line of LED powering products to the next level. The exceptional performance of the SLD-DIM1X is a prime example, with its enhanced, superior dimming. The architectural lighting industry- especially lighting OEM companies that continually strive to provide higher quality dimming performance in their LED fixtures- have been among the first to adopt our newly enhanced dimming products.'
It is important to note that the SLD-DIM1X is a new addition to GRE Alpha's growing line of high-quality LED dimming modules and drivers. The SLD-DIM1B as well as the rest of GRE's high-efficiency, high reliability SLD series products will continue to be offered and supported. The following chart illustrates the functional comparison between our new SLD-DIM1X and our original SLD-DIM1B dimming modules: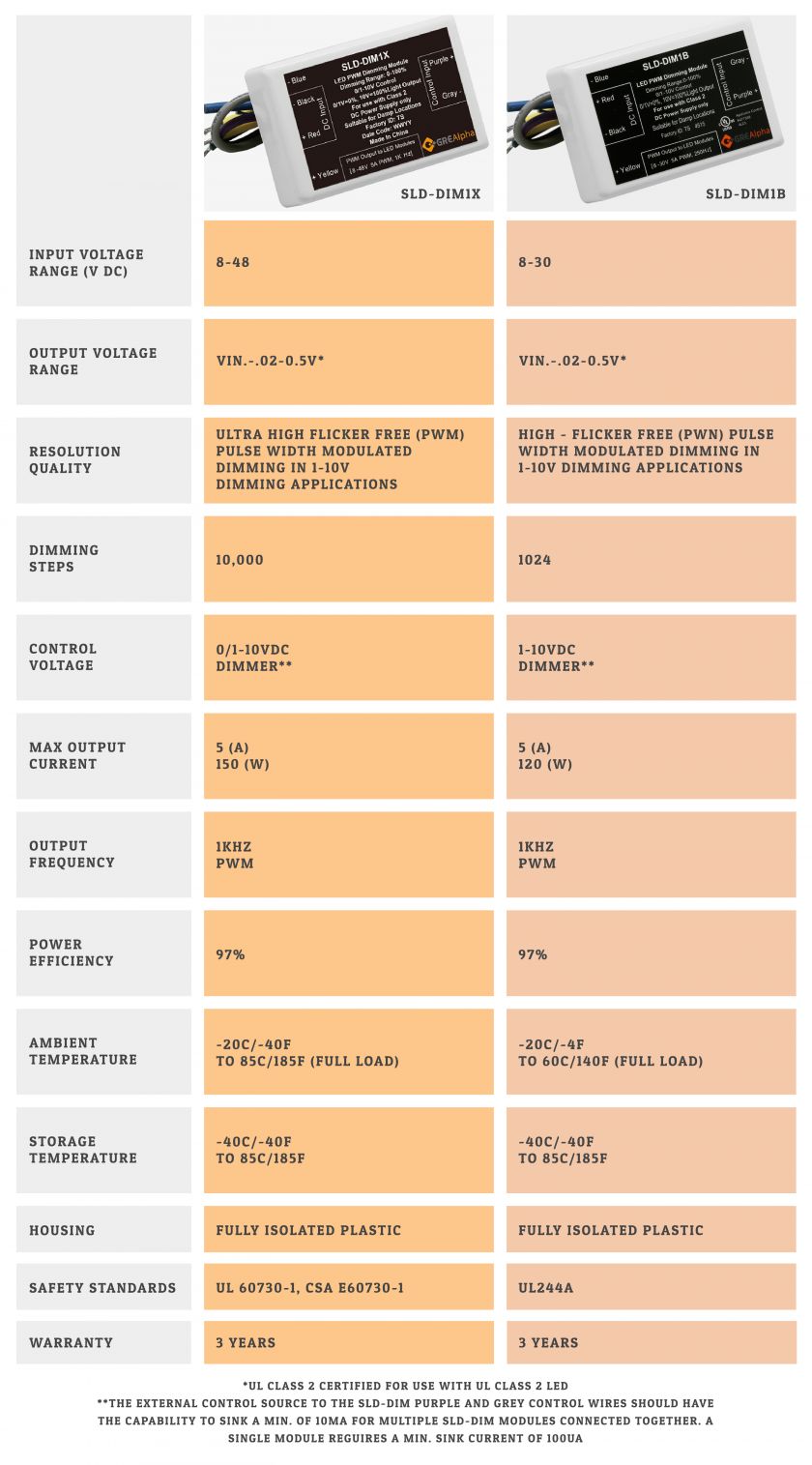 Preferred by the world's leading architects, designers and lighting companies, GRE Alpha's LED drivers and dimming modules are designed to operate with the highest efficiency and reliability at extreme environmental conditions, for any LED Lighting applications, including:
Architectural Lighting
Effect and Contour Lighting
Office and General Illumination
Warehouses
Street Lighting
Signage
Strip Lighting
Swimming Pools/Fountain lighting
When it comes to LED lighting, our dimming modules are the best choice for hassle free, high quality dimming. For additional information about the SLD-DIM1X module or any of GRE Alpha's wide range of adaptable, high performing powering products, please visit the GRE contact page. With teams strategically located in North America, Japan and Hong Kong, GRE Alpha's technical advisors are within reach and ready to answer LED power source related questions.
About GRE Alpha
GRE Alpha® Electronics, Ltd. specializes in the design and manufacture of solid-state lighting power supplies and lighting control accessories, which are the lifeblood of indoor and outdoor LED lighting systems. Our superior performance products are the power behind LED lighting systems. GRE's unique modular approach provides ideal, easy to integrate powering solutions for new and existing installations.
Filed in: New Product