Lighting Asia LED + Lighting Technology Show - A Recap
With the recent Lighting Asia LED + Lighting Technology show in the rearview, we're happy to say that the event was a success.
Below, we'll reflect on how great it was to showcase our innovative products, network with other industry professionals, and, most importantly: Meet and connect with our valued customers.
Networking With Industry Professionals
With nearly 100 lighting designers and 1200 professional exhibitors, the Lighting Asia LED + Lighting Technology Show is the ideal opportunity for those in the LED lighting industry to connect with other professionals.
The show hones in on six key sectors:
Architectural Lighting
Green Lighting
Lighting Management & Control
Outdoor Lighting
Smart Lighting Solutions
Specialty Lighting
Within these sectors, the GRE Alpha team got the opportunity to connect with all different kinds of professionals, from architects and building owners to lighting engineers and urban planners. We look forward to potential collaborations in the future with some of these innovative professionals in the LED lighting field.
The GRE Alpha Booth
The GRE Alpha team showcased some of our most innovative LED lighting control solutions and products, including:
We demonstrated their abilities and highlighted some advantages of our valued partnerships with these companies.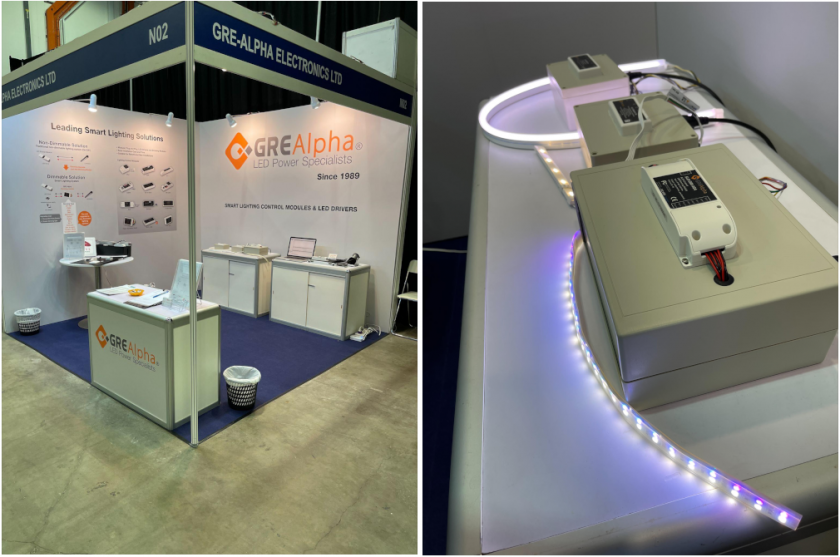 However, the best part of our booth was connecting and meeting face-to-face with our valued customers. We got the chance to discuss pain points, solutions, and connect with them individually.

Looking Toward the Future
The team at GRE Alpha always appreciates the opportunity to participate in these networking events. From showcasing new and old products to networking with professionals and customers, the Singapore Lighting Asia LED + Lighting Technology Show was a success.
We look forward to future collaborations with the professionals we met in Singapore and seeing our valued customers at future events.
Follow us on LinkedIn or check out the news at grealpha.com to see where we'll be next.
Filed in: Company News