GRE Alpha Lights Up the Room in Joint Seminar in Bangkok, Thailand
Latest in Lighting Control Technology Showcased for Lighting Designers
HONG KONG–July 23, 2019
A crowd of over 120 engaged lighting professionals came together on June 28th to witness the latest lighting technology in an action-packed LED lighting seminar. GRE Alpha Electronics joined with host Illuspace,Citizen Electronics and Setsuyo Astec Corporation in Bangkok, Thailand for a day of knowledge sharing and firsthand demonstrations.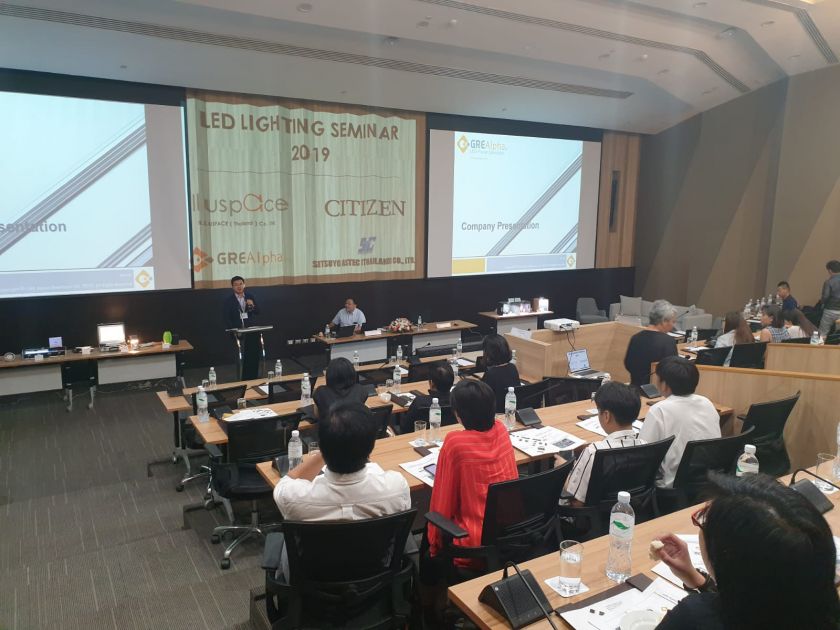 True to the pledge made by GRE Alpha's CEO, Richard Fong, in early 2019, the seminar created a platform geared to help customers succeed. Participants included members of top lighting design firms and universities across Thailand. Not only did they get to experience cutting edge LED lighting technology, but they were also brought up to speed on the evolving collaborative framework between lighting designers, manufacturers and architects.
GRE Alpha experts performed over nine demonstrations of its latest lighting control devices, including DALI, DMX, Color Tuning, Zigbee, BLE and EnOceantechnology. It was an engaging hands-on learning event that allowed visitors to experience the craftsmanship and quality of GRE products and proved instrumental to the seminar's success.
GRE Alpha's five-star product display included:

Zigbee wireless constant voltage LED dimming module, based on international standards IEEE 802.15.4 and Zigbee 3.0. Units can be directly controlled by batteryless Zigbee Green Power switches.
EnOcean wireless LED dimming module, which allows for smooth, flicker-free dimming of lighting fixtures using any of EnOcean's certified energy harvesting wireless switches.
BLE Wireless dimming module, a240-watt constant voltage device utilizing the latest in Bluetooth mesh that enables hassle-free lighting control with no compromise in performance. Part of the Xicato GalaXi ecosystem.
Events like these are not only treasure troves of information for lighting professionals, they build upon the forward-moving synergy between the lighting industry's top companies. The partnership between GRE Alpha and Citizen Electronics is a perfect example, resulting in lighting control modules that give users more control and flexibility in adopting various dimming systems.
New to the GRE/Citizen product lineupis a tunable white dimming module that seamlessly integrates with Citizen's white COB allowingfor separate tuning of brightness and color temperature. The two companies are excited about their collaborative efforts and customers can look forward to continuing new developments in greener, more effective lighting.
Keeping up with advances in technology is just one challenge facing lighting designers today, and experiences like this one are vital in helping them do so. GRE Electronics would like to thank Illuspace, Citizen Electronics and Setsuyo Astec Corporation for their instrumental role in making this event successful beyond all expectations.
About GRE Alpha
GRE Alpha Electronics, Ltd. specializes in the design and manufacturing of solid-state lighting power supplies and lighting control accessories, the lifeblood of indoor and outdoor LED lighting systems. With over two decades of power conversion expertise and a commitment towards innovation, GRE Alpha engages with industry pioneers to deliver highly efficient, installation-ready, and agency-approved LED power conversion products for a wide variety of industry applications.
For more information about the products featured here or any other GRE Alpha products or services, please visit the enquiries page. Our support team is always happy to help.