GRE Alpha's SEL-20kA Surge Limiter Guards Against Transient Voltage Surges


Background


Your investment in lighting faces two types of very real electrical threats to the equipment itself and to the operator and the public safety.
Lightning strikes in the vicinity, leading to galvanic or inductive coupling
Lightning strikes on the LED streetlight or the power supply cable
(Source: LEDs Magazine)
The first threat is a momentary voltage or current spike that can damage or destroy your equipment. These can occur in both indoor and outdoor installations.
The second hazard, primarily if your lighting is outdoors, is the perpetual threat of lightning strikes. The long copper cables that carry power or data signals from LED power supplies or controllers can unintentionally mimic lightning rods, drawing in danger from the very sky itself.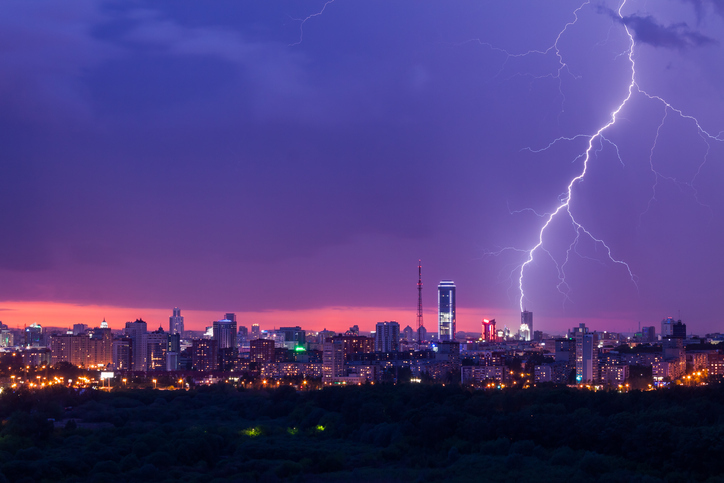 Having appropriate protection in place to handle common power quality issues, such as over voltage's is important
GRE Alpha SEL-20kA Surge Energy Protector


The GRE Alpha SEL-20kA Surge Energy Protector is a surge limiter that provides maximum protection for your lighting investments. The UL Listed Class 2 device complies with UL1449, EN 60.364-5-534 and EN 62.305-1. The SEL-20kA provides effective surge protection against surge over voltages, providing effective coverage against both direct and indirect lightning strikes.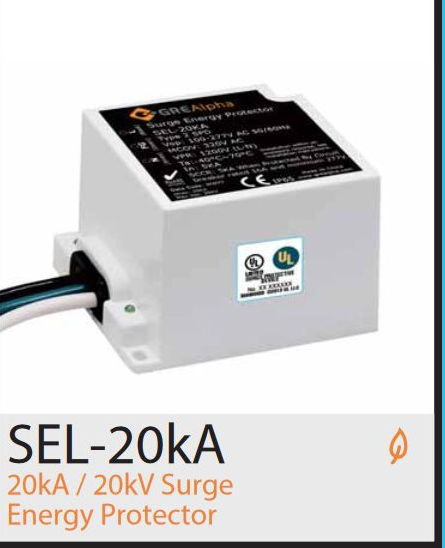 The GRE Alpha SEL-20kA Surge Energy Protector. Image source: GRE Alpha
This device is a UL Type 2 surge protection device (SPD), which means that it is designed to protect against 8/20 µs current waves. It provides protection against pulses of up to 20kA / 20kV and is designed to operate from AC line voltages ranging from 100 to 277, with a 320 VAC continuous maximum.
This surge protector protects against line to line and line to ground surges and includes a LED device status indicator.
The GRE Alpha SEL-20k Surge Energy Protector comes fully potted, which means that all unoccupied space with the device is filled with a solid or gelatinous compound. This makes it impossible for water to get in to cause short circuits or other damage. Additionally, during stormy weather, the air itself can be charged with electricity, and can cause electrical sparking. Potting fills all the empty space and eliminate either of these potentially disastrous outcomes.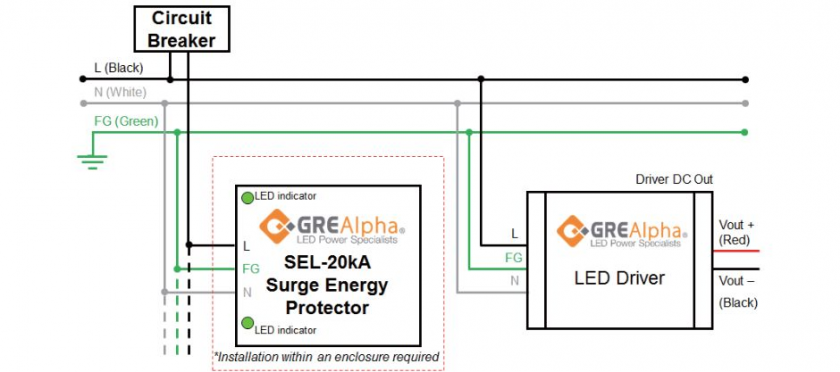 GRE Alpha SEL-20kA Surge Energy Protector is designed to work the company's line LED Power Supplies. Image source: GRE Alpha
The unit enjoys an IP65 rating from the International Electrotechnical Commission (IEC). This means it is 100% protected against dust and is also protected against low pressure jets of water from all directions.
The GRE Alpha SEL-20kA Surge Energy Protector is a UL Listed Class 2 device that also complies with the UL 1449, CSA C22.2 NO. 269.4-14, CSA C22.2 NO. 269.5-15 and CE safety standards.
It operates over a temperature range of -40°C to +70°C, and over relative humidity of 5% to 95%. Unit size is 70mm (L) x 60mm (W) x 50mm (H). Read more
Specialty Solutions for Street Lighting


GRE Alpha provides a complete product line for LED street lighting. Products include LED power supplies as well as surge limiters, necessary components to protect against momentary pulses of high inrush current.
Application segments include:
Street Lighting
Pedestrian Lighting
High Bay Lights
Up/down Lights
Flood Lights
Wall Washers
GRE Alpha is a total solution for all LED lighting specialty solutions, these include:
Architectural Signage and LED strips
Horticultural Lighting, Grow Lighting
Professional Lighting including Downlights and Track Lights
Street Lighting and Bay Lightings
Custom Solutions including Bespoke Design and Engineering
Dim Control, Dimming Module Accessories
About GRE Alpha
GRE Alpha® Electronics, Ltd. specializes in the design and manufacture of solid-state lighting power supplies and lighting control accessories, which are the lifeblood of indoor and outdoor LED lighting systems. Our superior performance products are the power behind LED lighting systems. GRE's unique modular approach provides ideal, easy to integrate powering solutions for new and existing installations.
Filed in: Industry