More and more architects and building managers are understanding the benefits of lighting to our health and well-being. Studies show that lighting in office buildings can have major impacts on employee engagement and performance. With workers clocking in more hours at the office than at home each week, considering the health implications in the work environment is necessary to keep workers not only productive but also healthy. While many strategies to improve air quality and general environmental health in the workplace have been implemented in modern buildings, lighting is one strategy that can have profound affects on not only physical but also mental health of employees. One of the major ways this can be used is with tunable white lighting.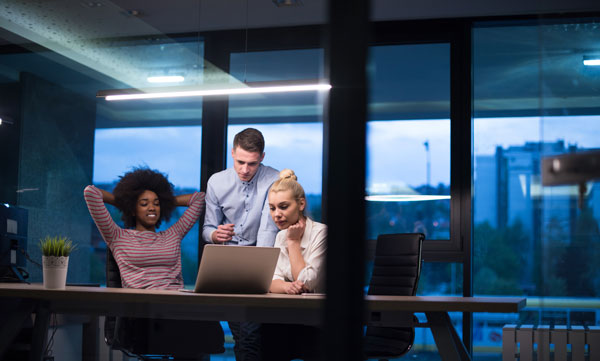 Studies show that lighting in office buildings can have major impacts on employee engagement and performance.
What is tunable white?
Tunable white, or Kelvin changing, LED lighting allows for lighting colors to be adjusted to produce either warm or cool white light. LED lighting mixes red, green, and blue channels to deliver a range of colors across the color spectrum. Tunable whites work similarly by adjusting the color temperature of a white light's output. With tunable white, there are two controllable LEDs: one warm-white color and a second cool-white color. These can be utilized in a variety of ways from simplistic to sophisticated:
Two lines of LEDs — the most simplistic method of achieving temperature variance in white LEDs is cross dimming between a warm white LED and a cool white LED. When put side by side in an aluminum extrusion with an opal diffuser that does the color mixing, you have a very basic way to achieve tunable white lighting.
Multi chip — this type of temperature variance lighting utilizes tiny LED chips combined in one module. In this way, the color mixing occurs as the light leaves the module. The small size of this type of technology means that it can be used for several applications such as downlighting.
What's key to a good tunable white lighting system is color rendering. Deciphering how well colors look when warm and cool channels are mixed together is how to effectively discern the quality of your tunable lighting system.
Applications for tunable white


There are a numerous reasons why tunable white lighting might be preferred for an architectural space, but in the context of occupant well-being, there are several key reasons why to choose it. It can be discerned that artificial light that most resembles daylighting can be good for natural body systems and influence overall health. Some of the ways this can affect it are:
Provide Apparent Cooling or Warming: by adjusting the coolness or warmth of the white light, a space can appear to be cooler in hotter climates and warmer in colder climates.


Simulate Daylight: Studies have found that lighting has profound impacts on our health. That's why there has been such an emphasis on daylighting design in sustainable design where occupant health is considered an important element.


Behavior Control and Focus: More studies have found that color temperature can also have a profound affect on attention and focus. In classroom environments, it can be used to calm students say before they begin a test or invigorate them to pay attention during a lecture.


Support to Human Circadian System: One widely known fact about effect of lighting on occupant health is its role in circadian rhythms. Circadian rhythms are like an internal clock that tells our bodies when it is time to wake and when it is time to sleep. Buildings have historically had a negative affect on these natural biorhythms by providing few windows for natural daylight and harsh lighting that tricks the human body into thinking that it is day time.
Tunable white lighting is being used in everything from nursing homes to treat dementia to psychiatric hospitals to curb aggressive behaviors. This method of adjusting for warm white lighting to cool white lighting to mimic outside conditions can evoke calm to alert behaviors in individuals that are serving as more gradual and holistic methods for treating mental disorders.
Tunable White Lighting Control Modules Key for Smooth Temperature Changes


The key to having a tunable white lighting system are the lighting control modules. The driving principle behind lighting temperatures is seamless adjustability. This means using lighting control modules that allow for gradual tuning that has a smooth temperature gradient without color distortion. Using more sophisticated LED modules is key to consistent color but lighting drivers can provide consistent temperature changes without noticeable flickers or color inconsistencies. And high-quality dimming modules can make installation simple to integrate, which is crucial when you are dealing with numerous lighting systems in a building. This can make it easier to provide lighting temperatures for interior areas of a space that depend entirely on artificial lighting.
Lighting has always been a profound design element that also is crucial to functionality. Most of any enclosed space is useless unless it contains some type of lighting to illuminate it. But with most people spending upward of 80-90% of their time inside buildings, more attention is being paid to the role that lighting has in our overall health and well-being. It's known that light from the sun provides us with necessary vitamin D and regulates are circadian cycle. But now more studies are being conducted that indicate lighting has a noticeable affect on our mental health. Meaning providing the right type of lighting is essential to activate certain cognitive responses. Lighting temperature is one element that can effect these responses, and should be carefully considered in a design to trigger the right moods of occupants.
Filed in: Industry