HONG KONG - October 11, 2019
GRE Alpha Electronics, Ltd., a leader in the design and manufacture of LED power supplies and systems, is excited to announce the expansion of their popular line of LED power supplies. Implementing a Bluetooth dimming solution has never been this easy. The SLD-DIM-XG4, the SLD-DIM-XG4-Ul and the original SLD-DIM-XG utilize the latest in Bluetooth mesh, featuring direct, peer-to-peer communication between nodes. Thus, ensuring instantaneous response to input from switches, sensors and mobile devices without the need for hubs or a central controller.
The XG line's interoperability offers a distinct advantage. Unlike other controllers in the market, components in the XG series empower OEMs with the flexibility to choose between several vendors in order to mix and match various solutions based on features, form and pricing to meet an end customer's lighting control requirements. Users appreciate the ability to work within popular DALI, Zigbee and EnOcean protocols.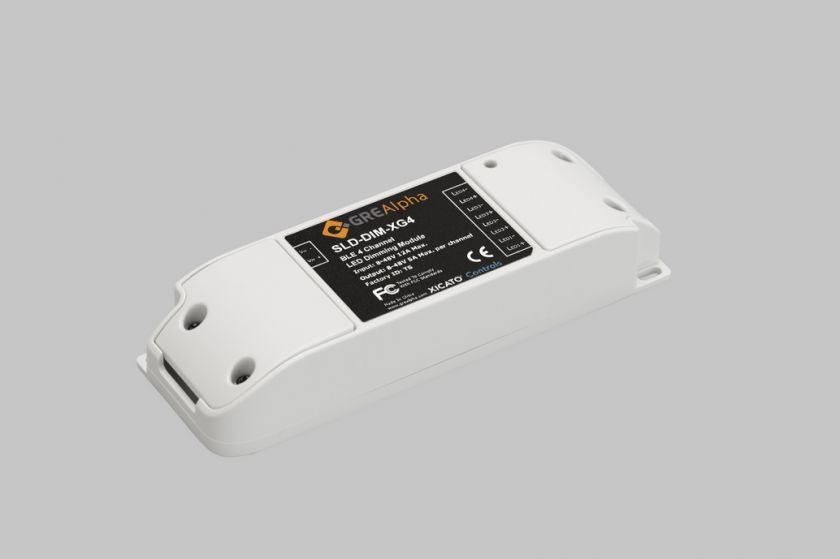 Image source: SLD-DIM-XG4 Datasheet
GRE Alpha's dimming modules are part of the Xicato Controls ecosystem, allowing quick and seamless installation and commissioning of lighting systems using Xicato software applications. GRE Alpha's new SLD-DIM-XG4 is a 400-watt constant voltage LED dimming module. While our original SLD-DIM-XG supports one channel, the new 400-watt SLD-DIM-XG4 supports four. The new unit will give additional flexibility when addressing the wireless design needs related to:
Theme parks
Stage lighting
Color controls for decorating
Architectural lighting
Effects & contour lighting
The table below compares three popular wireless dimming modules.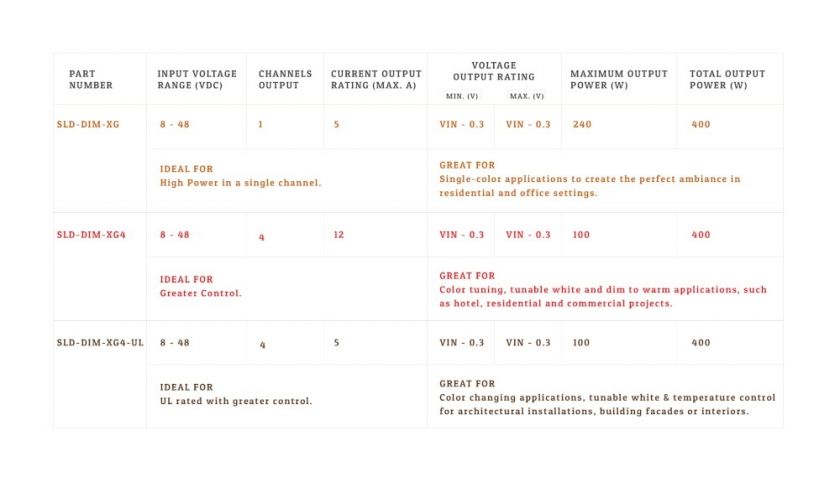 The SLD-DIM-XGA is a high-quality LED controller that can source up to 100-watts output into each of four channels for a total of 400-watts. The SLD-DIM-XG can source up to 260-watts into one channel. These BLE dimming devices are completely wireless dimming modules based on the BLE (Bluetooth low energy) protocol. Aside from being able to source more power, the primary difference between the SLD-DIM-XG and the newer SLD-DIM-XG4 is that the XG4 has four channels rather than one. This allows artists, designers and architects to effect finer lighting control in any situation. The SLD-DIM-XG is great for color temperature control in a wireless environment and is a lower cost solution. This high-quality LED component your first choice for general commercial and residential use. The SLD-DIM-XG4-UL is what you need when the situation requires a UL listed LED controller.
The units are manufactured in multiple facilities. Buyers in the U.S. market can take advantage of tax advantages as GRE Manufacturing in Vietnam is producing the SLD-DIM-XG4, the newest four channel Bluetooth dimming module. Along with the SLD-DIM-XG, it is just one of GRE Alpha's LED controllers that are now made in Vietnam for U.S. customers.
About GRE Alpha
GRE Alpha® Electronics, Ltd. specializes in the design and manufacture of solid-state lighting power supplies and lighting control accessories which are the lifeblood of indoor and outdoor LED lighting systems. Unlike many in the LED industry, GRE Alpha focuses on a modular approach. Their products can be used either in conjunction with existing systems or with new setups. With more than two decades of power conversion expertise and a commitment toward innovation, GRE Alpha engages with industry pioneers to deliver highly efficient, installation-ready and agency-approved LED power conversion products for a wide variety of industry applications. www.grealpha.com.
Filed in: New Product