Back to index
As commercial, industrial and residential LED lighting become more common around the world, particular attention must be paid to the components chosen for high temperature applications. These include any outdoor application in a hot environment; for example, exterior LED signage lighting in downtown Las Vegas, where summer temperatures regularly climb above 110˚ Fahrenheit (43˚ Celsius), or in the United Arab Emirates, where temperatures of 120˚ Fahrenheit (49˚ Celsius) are not uncommon.
Severe heat places unique demands on LED lighting systems and can cause poor performance and premature failure if any one component in the system is not designed for high temperature use. LED drivers are of noteworthy concern, as they produce the most heat of any LED lighting component and have the greatest risk of failure from overheating.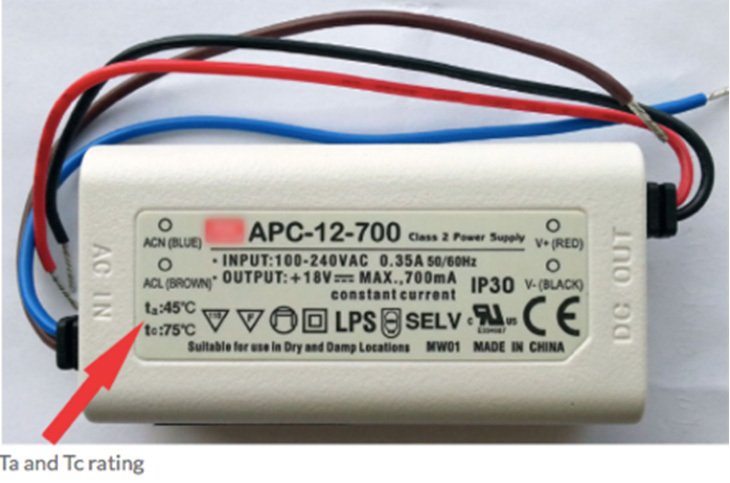 Ambient Temperature vs. Case Temperature


When discussing the temperature management capabilities of LED drivers, the critical considerations are ambient temperature ("Ta") and case temperature ("Tc").
In some cases, manufacturers may test a component in a laboratory or manufacturing facility with a relatively low default ambient temperature of 73˚ Fahrenheit (23˚ Celsius). If a component tested for this temperature is deployed in a setting like Las Vegas, as described above, the 20˚ Celsius increase in ambient temperature will almost certainly have a negative impact on the service life of the component. Ambient temperature should be clearly marked on the component; LED drivers for high temperature applications should be rated tested to 45˚ Celsius at a minimum.
Case temperature is another important consideration when specifying LED drivers for high temperature applications. This is the temperature of the hottest part of the component under normal working load at a given ambient temperature. Case temperature is important for two primary reasons. First, the component must never get so hot as to present a risk for igniting any combustible materials nearby. Second, the case temperature should never get hot enough to damage internal electronics and shorten the life of the LED driver. Therefore, when tested at an ambient temperature of 45˚ Celsius, a driver designed for high temperature applications should have rated case temperature of no more than 75˚ Celsius.
These two related temperature ratings are critical when selecting components for high temperature applications. It's important to look carefully at both case temperature and ambient temperature ratings to understand how the component will perform in the real world, where conditions are significantly more variable and extreme than a controlled laboratory environment.
Electronic Engineering Journal provides an excellent overview of estimating case temperature during operation at a range of ambient temperatures which can be found here.
Manufacturers Go to Extremes


Leading manufacturers like GRE Alpha understand the demands of high temperature applications and offer LED drivers and other lighting components specifically designed to operate efficiently and reliably in extreme conditions. These components feature a unique power architecture and cutting-edge energy buffering and thermal management approaches to deliver sustained operation at ambient temperatures above 80˚ Celsius with no degradation to performance or longevity. Learn more here.
GRE Alpha will continue to push the boundaries of LED lighting components for high temperature applications with the launch of their E-capless LED driver to be released this year which will be rated for an industry-leading ambient temperature of an ambient temperature of 80C full load from 110-277 VAC. Sign up here to get the latest news on availability and pricing.
About GRE Alpha
GRE Alpha® Electronics, Ltd., specializes in the design and manufacture of solid-state lighting power supplies and lighting control accessories which are the lifeblood of indoor and outdoor LED lighting systems. With over two decades of power conversion expertise and a commitment towards innovation, we engage with industry pioneers to deliver highly efficient, installation-ready, and agency-approved LED power conversion products for a wide variety of industry applications. Our success is centered on three core values—innovation, service and partnership.
Back to index