FULL RANGE, HIGH-RESOLUTION DRIVERS FOR LED LIGHTS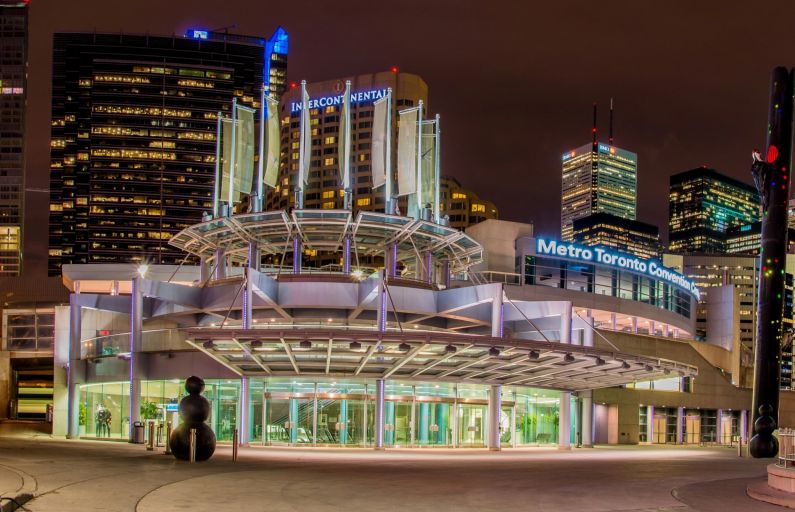 Application Name
Metro Toronto Convention Center
Country / Location
Canada
Application Type
Outdoor- Decorative
GRE Alpha Product Used
SLD, XLD:- Easy-Install Integral Wiring Compartments
Category
RGB Lighting Effect
Located in the heart of downtown Toronto, the Metro Toronto Convention Center (MTCC) is Canada's premier convention and trade show facility. Featuring 442,000 square feet of exhibit space, 77 meeting rooms, two multi-purpose ballrooms, and a 1,232-seat theater, the center hosts more than 500 events annually, contributing greatly to community finances. Consistent with their corporate commitment to sustainability and the environment, LED lighting is included in both their indoor and outdoor architecture.
GRE Alpha provided a highly desirable powering solution for the Center's outdoor lighting with our DALI compliant XDL 6-in-1 LED dimming module. The 6-in-1 dimmer provides full-range 0-100%, smooth, high-resolution dimming performance for constant voltage LED dimming applications. Flexible and easy to install, this unit comes with a multi-colored LED indicator and integrated strain relief and terminal cover. Each dimmer also features built-in thermal shutdown plus auto-restart and overload protection.
Learn more about GRE's high-efficiency LED drivers here or send an enquiry to see how our flexible, easy install dimming modules can work for you.
More Images